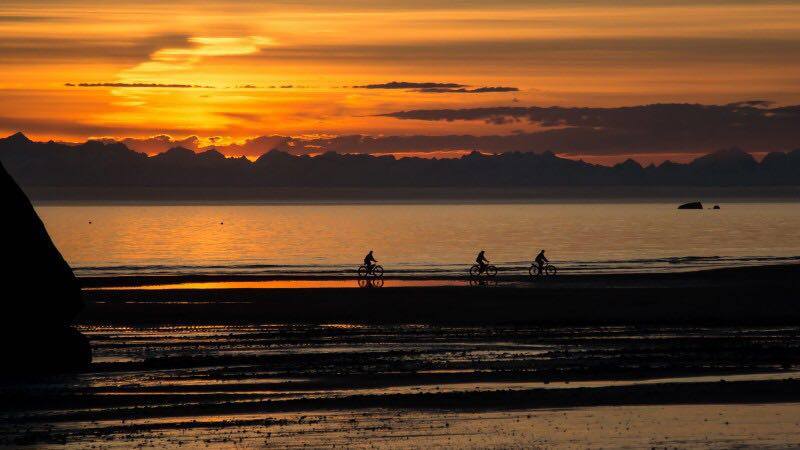 We love the uniqueness of Porthcawl Bike Hire. A genuine shop with a real passion for what they do, it's great to have them on board the VOLT dealership.
We first heard from this family run business when they added a couple of our e-trikes (VOLT Explorer) to their rental range. In two weeks time they'll be receiving a couple of our greatly coveted Bigfoot models, where people can view, test ride and buy this fat tyre e-bike. With this imminent arrival it seemed like a good time to find out just what makes the guys at Porthcawl Bike Hire tick!
Porthcawl Bike Hire under the Spotlight…
What motivated you to open/run a bicycle shop?
Well the story about opening/running a bike shop was not a planned thing or even an idea in the background, it just happened, I met Shayne, Shayne met me, he had dreams, I had ideas, he had ideas, I had dreams and those put together became a bike shop with hire and FAT BIKES.
What makes your store different from others?
We specialise in Fat bikes and the rental of, along with guided rides in our natural surroundings, sand dunes! Our location, our surroundings and our love for the sport makes a genuine and successful store.
What is the funniest/strangest request you've ever had from a customer?
The funniest thing with a customer so far is not a request but a telling off. An irate customer came in to the shop stating that it is not right that we advertise bikes for "Fat People" (fat bikes). A very funny conversation ensued and calmness was restored once she understood what fat bikes were!
What about the VOLT brand & range led you to stock them?
Volt Bikes look great, based here in the U.K and a very easily contacted, you organise finance for our/your customers and have some nice branding. We are getting a lot of interest in electric bikes and feel that this could be the market this little town needs!
What is your favourite VOLT e-bike and why?
We love our Explorer electric trikes but can't wait for the Bigfoots to arrive. They're just our cup of tea!
What is your top tip for anyone looking to buy an electric bike?
We live in a very green town where a lot of people care about the environment, the town is small where travel to reach anything is not far. Why not go on an electric bike, economical, environment friendly and much more fun than driving and a billion times more healthy.
For more information on our other dealers in Wales, head over to our e-bike shops page for Wales